Celebrating Special Stories of Love & Affection
Rhonda's Inspiration For Living Grace Canine Ranch
---
Saying goodbye is never easy, particularly for the elderly and their devoted and loyal pet companions. Since being rescued from a kill shelter in Nebraska, Lucy (a shepherd mix) quickly became my mom's new life partner. Lucy and my mom, (Carmelita) happily remained together until my mom's debilitating stroke forced Lucy to be re-homed. My mom never forgot about her Lucy and frequently spoke with Mikayla (her granddaughter) for updates. In spite of being a little slower and not as agile, my mom still had her "bucket list" which included things like a hot air balloon ride, among others. This all changed when mom was diagnosed with Stage IV Pancreatic Cancer. Nothing on the list mattered anymore with the exception of seeing her beloved Lucy one final time. A week after Carmelita was able to reunite with Lucy again and cross that off her bucket list, she passed away. As for Lucy, she lived and was deeply loved by Mikayla's family until she passed years later.
Unbeknownst to Rhonda, this was the 'turning point' or epiphany that three years later would manifest as Living Grace Canine Ranch.
---
You Scream, I Scream, But Not For Ice Cream
---
Has it ever secretly crossed your mind that some dogs just aren't worth the trouble of rescuing? Maybe you've thought — is the cost worth it when the dog is showing no signs of recovery?
Well, let me introduce you to a miracle-working family that had the right approach for a lost cause dog. Her name is Pretty. This is her face, which is remarkable in itself, because before she found her family, she never looked up, never smiled, and lived day in and day out under a bed.

Pretty was taken in as a foster when she was rescued from the euthanasia list at a county animal shelter. For the next year, Pretty lived with the rescuer and most of the time she stayed hidden under a bed. She was terrified of 'feet' and terrified of any kind of human or other dogs touching her. Something as simple as a vet exam, let alone a bath or nail trim, would require heavy sedation. If a hand brushed her fur, she would scream. If a foot came too close, she would scream. And her screams were shrill and heart breaking.

A local rescue organization reached out to Living Grace Canine Ranch in hopes we could help with this cruelty-abuse survivor. Since she was not responding to anything other than coming out for food, they needed help.
Screaming had become a defensive behavior signaling others to avoid her. The question that needed to be answered upon arrival at the Ranch was if there was a reason for the screaming and hysterics. Was it possible that she was truly in physical pain?
After hours of loving care, patience and significant expenditure on imaging and diagnostics, it was confirmed that the physical abuse she repeatedly endured resulted in cervical damage at the base of her neck, which explained why she lacked mobility to turn her head and experienced paid if she tried to raise her head. Many dogs that suffer this type of injury and underuse of neck muscles eventually cannot physically lift their head at all.
Two of our fabulous volunteers at Living Grace, Jean and David, were at the Ranch doing various chores when David decided to introduce himself to Pretty. She wouldn't look at him, but he stayed the course. He spent two hours showing Pretty how to use her doggy door (wish we had video of that!), talking with her, assuring her she was safe.
Jean and David went home that night, but when they left, Pretty retreated to her room and seemed to get even more depressed. The next time Jean was at the Ranch, she agreed to take Pretty home. Finally, Jean got Pretty into the truck and there seemed to be a question on who was going to drive…Jean or Pretty. Fortunately for all of those on the roads, Jean won. When Jean got home and introduced Pretty to the other dogs, they were concerned that she wouldn't handle it well.

Witnessing Love As Healing
But here's the magical thing. Within two weeks, Pretty started trotting! When she would see David, she would smile the biggest old black chubby dog smile.
She now pals around with the family's husky dog and will often drag her bed into a doorway to prevent another of the dogs from coming into the room.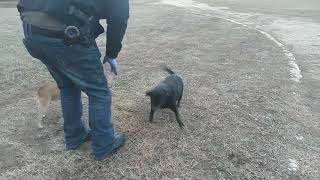 Trash day is the day all the dogs load into the truck and go with Jean to drop it off. And some days, they all get to go for ice cream. It's remarkable. The bond between human and canine is truly a miracle and it took the right people and the hidden hope of a sad and hurting pup to make it all work.
Paws up to Jean and David and to Pretty and all her canine brothers and sisters who have made it work when it once was hopeless.
---
On The Road Again
---
On the road again
Just can't wait to get on the road again
The life I love is making music with my friends
And I can't wait to get on the road again
On the road again
Goin' places that I've never been
Seein' things that I may never see again
If you're a Willie Nelson fan, you've probably heard this tune a lot! Well, one family took it to heart.
Meet Jim, Dianna and Sara.
They are a remarkable family that has shared their time and resources with the canines that need a helping hand.
Starting several years ago, the family would regularly plan vacation time around volunteer activities. One year they found themselves at a sanctuary farm where they had a chance to work with cats, rabbits, and dogs, and it was there they met a big beautiful dog named Kadie. Part of the process to help socialize her was to have the host family take her back to their hotel room for a night and spend quality time talking with her, playing, and giving her super-sized love. The next day they took her back to the farm, but she never left their thoughts. A few weeks later, not being able to get Kadie out of their mind, Jim went to get her and then embarked on an 1800 mile journey to get her home. One very large dog, one very small backseat, excessive panting and multiple stops later, Kadie was introduced to her new family.
Then there was Molly who was a victim of a backyard breeder. At 7 years old, she was still having puppies. Because she had been kept on concrete in a crate for so long, she was skittish, reluctant, and had lost significant muscle strength. She too found her furever home with this selfless family who took her in and cared for her. Today she gets to share life with Ruby, another happy ending story from the family's former neighborhood.
Many times, the family would volunteer to make long journeys to transport dogs from one location to a new promising situation. On one of those rescue journeys, they tell of the story of the bait dog they picked up and transported while she was very very pregnant. Five car rides and an airplane trip later, they delivered her into the loving arms of kind people. She was able to have her puppies in comfort and care and mom and babies were all saved from a horrible life.
With their move to Texas 2 1/2 years ago, the family became familiar with the charter of Living Grace Canine Ranch and knew it was meant for them. Just like their own family "charter," they rallied around Living Grace's goal of saving, serving, and valuing the lives of senior canines, no matter the breed, physical, emotional, and medical challenges they might have.
Volunteering at Living Grace Canine Ranch means helping with the unglamorous, tedious, smelly tasks, rewarded by dog smiles and wagging tails. Just like in the days of transporting canines from one location to another, it often means little sleep and lots of clean up. Now they also participate in giving baths, folding laundry, cleaning kennels and even on occasion staying overnight to ensure the dogs have human oversight.
We want to recognize this wonderful family for their tireless work on behalf of needy canines. And as Jim will tell you, "you can be part of the solution or you can be part of the problem." Jim, Dianna and Sara have chosen to be part of the solution.
Paws up!
---
Porch Babies
---
Look at me! Golden, soft coat, big soulful amber eyes. I know I'm beautiful because my mom, Lyn, tells me all the time. But my life started pretty rough!
My siblings and I were born under a porch. Our mom gave birth to us, and then something happened, and we never saw her again. We were hungry and scared — alone. Then some nice people came along and gave us bottles of milk and a warm place to sleep.
When we were strong and healthy, we went to a place where they had all sorts of dog treats, toys, and bags of food everywhere. We waited for people to come by and pet us or talk to us or pick us up. But after a while, we were all getting tired, and only a couple of my siblings left with people who said they would take them to their forever home.
Then I saw her — my mom now — walk in the door. I turned on the charm. I sat up, looked her in the eye, and silently said, "pick me!". And so she did! (Evidently, my mom speaks 'dog'!). I said a hurried goodbye to my best friend and sister and left to go to my new home.
There I met Sassy and Charlie, my new fur family. I settled into a routine and had lots of love, food, playtime, and cuddles. But I thought about my other brothers and sisters from time to time and wondered whatever happened to them. I hoped they found some nice family as I did.
Almost a year had passed, and one day my mom came into the house, and she called me over and said, "Gabby, do you know who this is?" Heck yeah! I knew immediately that it was my sister, who was now named Phoebe! Woohoo! My sister! My sister is with me now! I'm a happy pup, so so happy! Tail wagging happy. Dog drool happy.
We hang out together all the time. We are almost nine years old now, and my timid little sister is a ball of fun. She just needed the right family. And we are both so lucky to have found our forever home — together.
Gabby & Phoebe's family pack includes Lyn (Mom), Charlie, Sassy and Merlot. All of the 'children' are enrolled in LGCR's

Forever Home

program; an endowment based pet-care service offering a parent 'peace of mind' in the event of death or incapacitation.
---
---