Supporters sharing their stories and pictures of
loving & living with senior canines...
click on a story below
Supporters sharing their stories and pictures of
loving & living with senior canines...
click on a story below
TO THE PAW PRINTS ON OUR HEARTS - A TRIBUTE TO LUCKY
---
We grieved this moment the first time we laid eyes on you. We knew your love,We knew what makes your tail wag, We knew the joy you brought into our hearts, And we knew we couldn't keep you forever. My dearest Lucky, you are finally at peace. You have fetched every ball and licked every face, But, today you have finished the race. We hope in your shortened time we lived with you in grace. We met your every need and held your paw through every vet trip, With physical time and sponsorship. To the paw prints on our hearts, you give us the desire to begin again. Each dog begins our story anew till my heart is covered in tracks from you. These tracks tell our stories and hold sweet memories, Till one day we are sitting together again beneath the breeze and the trees.
---
---
Re-Visiting the Bucket List
---
Saying goodbye is never easy, particularly for the elderly and their devoted and loyal pet companions. Since being rescued from a kill shelter in Nebraska, Lucy (a shepherd mix) quickly became my mom's new life partner. Lucy and my mom, (Carmelita) happily remained together until my mom's debilitating stroke forced Lucy to be re-homed. My mom never forgot about her Lucy and frequently spoke with Mikayla (her granddaughter) for updates. In spite of being a little slower and not as agile, my mom still had her "bucket list" which included things like a hot air balloon ride, among others. This all changed when mom was diagnosed with Stage IV Pancreatic Cancer. Nothing on the list mattered anymore with the exception of seeing her beloved Lucy one final time. A week after Carmelita was able to reunite with Lucy again and cross that off her bucket list, she passed away. As for Lucy, she lived and was deeply loved by Mikayla's family until she passed years later.
---
All 'Couped' Up In Love
---
When you love dogs and give your time, money, or influence, you often hear heartbreaking stories. And there are so many of them. Sometimes, dogs and their humans magically find each other, and through that experience, they develop a life-long bond.
Meet Winnie and Lucy, oh and don't forget Grady and Brooke and Allie and Bella and others who share life with their parents, Sharon and Jim Coupe.
Winnie and Lucy were only four months old when they surrendered to the Humane Society and the other seven Pyrenees/Lab mix brothers and sisters. Sharon planned to bring home one puppy until she and Jim saw these two sisters huddled together. Lucy was meek and scared and laying quietly behind her sister, Winnie, who was very protective. So, both found their way into the hearts and home of their humans. In their senior years now, they have been cared for, fed, walked, played with, and loved. Best of all, the commitment of their folks continues to be rock solid.
Grady, another senior family pet, spent many years on the streets. Hungry, afraid, and filthy, Grady was found and brought home — along with his bad attitude and fundamental mistrust of humans. The years have taught him that he is safe, but he still harbors some deep-seated wariness from his questionable past. Grady needs assurance every day, but the joy he gives back is invaluable!
Then there was Allie, displaced and never claimed after the hurricane on the coast a few years ago. Today, a fat and happy chihuahua mix isn't a fan of storms, but she loves cuddles from her family.
Rounding out the menagerie are two other rescued dogs, Brooke and Bella (both VERY attached to Jim!), donkeys, and chickens.
As parents, Sharon & Jim embrace the work, mud, mess, barking, clucking, and basic craziness that comes with opening their hearts to those who need a helping paw.
___________________________________
Sharon shares her love and compassion as a volunteer Bunkhouse Ranch Boss. On behalf of Living Grace Canine Ranch and our old pack, we extend our paws of blessings to Sharon & her family.
---
Expected Two, Blessed with Twelve Months of Loving Honey
---
It was just a normal day volunteering at the capital area humane society with my mom. We were about to walk out the door when I saw this scared, cold, and broken little dog. I asked my mom if we could visit with just one more dog. Now, I've alsways had a quirk for weird or lonely dogs, but this one little dog was calling out to me. I just couldn't leave without meeting her. We opened the door to her kennel to find her lying on her cot and she stood up to see us. She didn't bark or try to escape. I think she was just happy that someone wanted to see the old weird looking dog. She was wearing a red sweater that hid her sad, mis-shaped back.
Her ears were long and pointed toward the sky. Her nose was even longer, and her lip curled showing the only two teeth she had left. She wasn't any bigger than a house cat and came over and sat on my lap. She was 14 years old, deaf and her back had been broken due to harsh treatment at some point in her life. I looked at mom and it clicked. We were going to be the people that saved the old broken dog and gave her the best "rest of her life"! She would spend the rest of her life in a warm, mostly quiet home, with good food and water and not having people just walk by not noticing her. That's us, the people who noticed and before you knew it, the three of us walked out together. Her shelter name was Precious, but that didn't seem to fit. While driving home, she kept scrambling in my arms and I kept saying "Honey"; then it came to me, her name would be Honey. Once we got home, we took her out back and she just took off running as if she was age 4 versus 14. Honey rolled in the grass and leaped for joy to be out of that scary cold place. Because of her age, we thought she would only be with us for a couple of months, yet it became an entire year.
As time passed, she stopped running and rolling in the grass. She fell a lot. Honey slipped on the tile floor and sometines fell off her bed (less than 2" high). It was so sad to see her fading away but that's what we accepted when we chose to adopt an old dog. We got a friend for Honey. Her name was Bailey. She was a huge pit bull with the sweetest heart and was so gently with Honey. Bailey was our foster for four weeks during the holidays and Honey loved the company; she would follow Bailey outside and wait for her to come back in and then she would lick Bailey's toes to get all the water and dirt off. After bailey left, Honey got worse. On January 13th, we said goodby to our sweet Honey.
Honey has changed our life for the good and she will always be prancing around in our
hearts The way Honey waddled around the house and followed you to see where you were going. the way she always licked you. The way she always pranced around my feet when I got home from school. The way every time I carried her down the porch steps into our backyard she went around the yard running the fence line. The way she slept with her feet over her small soft head. Whe will be remembered in all these ways and more. Honey was an amazing sweet and funny dog. She was always excited to see you and now she's running the fence with our boxer Bella, peacefully and happily in doggie Hearven. I love you Honey. Written by: Maggie, 11 years old
Comment: Maggie, your compassionate perspective of many sheltered senior dog experiences is remarkable. So often because of their age, appearances or physical challenges, they are adopter 'unnoticed'. We hope you will continue championing for shelter 'un-adoptable' and foster 'un-desirable' senior canines. ~ LGCR
---
Three Legs Later, Still Living a Fully Enriched Canine Life
---
Nearly ten years have passed since Trip (formerly known as Tripod) catapulted into Louise and Troy's life while witnessing a puppy struck by a car. The severity of injuries resulted in a hind leg amputation, but no one ever told Trip, nor are they reminding her to slow down because she is 'old'.
Trip has everything living on a farm offers plenty of open space to indulge her senses, run, play, swim, and play tag with the chickens. But all treats are off the table when it comes to the vacuum or laundry machine, whereby she seeks refuge in closets and under blankets. Mr. Rogers said, "To love someone is to strive to accept that person exactly the way he or she is, right here and now." Indeed, this applies to our family pets; loving them with all their physical and emotional frailties, is to love them unconditionally. We love Trip, and she is perfect.
Comment: Thank you Louise for sharing how Trip has imprinted her three paws on your family's hearts. Though the ranch does not have chickens, our five acres offers plenty of opportunities for senior canines to flourish, explore and delight thier senses in a safe protected environment.
---
Meet The Leckners, A Working Canine Family Now Retired
---
Our family members are retired service dogs. The oldest and first to be adopted is Binny, she will be 15 years of age this November 25th. You see, my daughter (Lindsey) lives with three other girls who were also blind.
Meet Binny

: Amelia (roommate) retired Binny at the age of 6 (which is young) due to her lack of focus. When given the opportunity to adopt Binny, I wholeheartedly said YES! Binny is a character. When she wants to do something, she goes at it. She is extremely loving, and we bonded immediately, so after nine years, we have been through a lot, and

I have to admit that I love her as much as my wife, son, and daughter.

When she goes, I will be a basket case.
Meet Pronto: (upper right): He turns 12 in two months, and he was my daughter's guide for eight years while in college and living in Southern Califiornia with three other blind girlfriends Pronto became quite the expert with commerical bus travel and at times helped bring her home from being lost.
After 8 years I adopted Pronto from Guide Dogs for the Blind (GBD). He is an extremely anxious dog. He will be laying at my feet, as he is right now, and all of a sudden will jump up like he was startled and start to whimper and bark if not given immediate attention. I love him to death, my God, he protected my daughter for 8 years
Meet Foreman (above/center) This December, he turns thirteen. He guided Sarah (roommate) as she took Culinary classes at the University of Irvine. She let me adopt him at around eight years of service as well. In 2016 he developed an eye pressure problem, which led us to have his right eye removed. Around 2018 his left eye began to cloud up after we moved here to Austin.
After the arduous journey of repeated visits to an animal ophthalmologist, trying different medications, in the end, our prayers were not answered. We lost the battle, and I was devastated. It wasn't fair in the least.
Foreman is a big dog (around 85 lbs.). He is the gentlest that any dog could be. You can do anything you want to him, and he'll let you. When we go out for a walk, I need to alert him to step up or down at curbs continually. He is used to our home, likes to climb the steps to sleep upstairs, and is completely happy and content.
Meet Nova: My wife is a member of a puppy raiser club here as she was in Bakersfield. On 10/13/16, Nova was born at GDB. She was given to my wife to train and raise her. She taught her to travel alongside her, stop automatically at curbs, and learn how to stay focused. Unfortunately, the evaluator from GDB turned her down, so we adopted her as well.
I know this is long, but I'm only scratching the surface. I consider these pups my children; they are my love and joy. My two kids have grown and are gone. It is just my wife, Binny, Pronto, Foreman, Nova, and me. We are a very happy family.
Comment:
Thank you George for sharing how Binny, Pronto, Foreman and Nova has imprinted thier paws on your family's hearts. We are mindful that most of our residents will arrive with challenges both physical and emotional. In knowing so, we are collaborting with both an interior design professional and canine behaviorist to build an environment where all senior canines may flourish throughout their golden years.
---
Itty Bitty Bevo, Our Little Texan Longhorn
---
Our love story began on Saturday, November 22, 2003. Only minutes after arriving at the breeders, a tiny 10-week-old Shitzu/Maltese puppy ran to my wife's open arms. We knew immediately this was our little 'Shit-Mal'.
He was small, mostly white with brown ears – the opposite of his namesake, who is brown with white horns, so the name Bevo was perfect. Bevo rules our 2-acre lot in Round Rock. Through the years, he has chased many deer and squirrels, met horses, and befriended numerous feral cats who seem to adore him. Inside the house, Bevo's BFF is Bennie our cat.
On March 27, 2019, Bevo had a seizure. His vet thinks he has a brain tumor and put him on Prednisone. It has taken him some time to get back to his usual self, and he sometimes stumbles.
He has lost some hearing but is still alert. The seizure was a year and a half ago, and Bevo is still with us.
At 17 years of age, Bevo is and always will be 'our puppy', our family member and our lives' delight.
To this day, we continue to smile whenever Bevo creates a 'new game'. He has us trained to put his treats on the floor and walk away before he picks them up. We love this little man, and look forward to many more treat times with our precious Bevo.
LGCR/Comment:
Barbara & Russell, thank you for sharing how Bevo as imprinted his little paws of love on your hearts. What a little dynamo! We are rooting for many more years of walk-away treats.
---
From Loss To Love, My Heart Will Never Be The Same
---
There was a time in my canine 'mom' years that only Yorkies & Shih Tzus staked a claim in our home. Then no more than six weeks after the passing of my last 12-yr old furbaby and experienceing grief, it all changed. "When one door closes, another door opens, but we often look so long and so regretfully upon the closed door that we do not see the one which has opened for us." ~Alexander Graham Bell
Jaeda's story began in the womb of her abandoned mother, chained to a backyard post without food or drink. Upon rescue by two teenage boys, she was so emaciated that her pregnancy did not show until the miracle of two pups were born. At two weeks of age, I witnessed Jaeda's determination to live. Hence, the birth of a 'surrogate mom' to nourish, comfort, and protect my baby girl. In hindsight, the many years I devoted to caring fo small breed creatures, and their fragility lent me the knowledge to save Jaeda's life. Jaeda, My Shadow & Best Friend
Upon moving into an apartment, my son asked if Jaeda could remain at the house for six months (I imagine we've all heard tht type of request before). Well, six months was nine years. During that time, I had two hip replacements, and she never left my side. A funny story, upon my second hip surgery, my husband knew he would need to sleep in the guest room, because Jaeda wouldn't sleep anywhere but with me. I trained her to jump up on the bed only on the right side (because of my hip). Then she would rest her head on pillows and lay a paw across my leg.
When using my walker, she would walk beside me and lie down anywhere I landed. Also, she quickly learned that she could stand up when I was trying to get up, and I could push up off of her until I was erect! Jaeda and I had an incredible nine years of companionship. The neat thisng is, jaeda was a pit bull. Being a former Yorkie and Shih Tzu mama, this was quite a breed change. I must say, Jaeda was the sweetest, most loyal dog I have every had. Her loving eyes and desire to please melted my heart. In closing, I want LGCR supporters to know that Jaeda was deeply loved and loving to all. Pit Bull Terriers as a breed are sweet and loyal companions that have been misrepresented by the media. I, too, was a skeptic at first, but Jaeda proved me wrong. Jaeda came into the world with nothing and left with everything, including my heart. Cindi (Dallas/TX) ______________________________ LGCR Comments: Jaeda is a living testimony that kindness and love, begets kindness and love. Thank you for allowing us to love Jaeda and share in her memory. We will treasure your donation of Jaeda's blanket, pillow and personal favorites.
---
My Best Friend and My True Buddy
---
My BFF was named Buddy. At age 11 1/2, he passed over the rainbow bridge on November 15. 2015, after a 2nd bout with cancer. We adopted Buddy from a local rescue when he was 3 1/2. Buddy was a beautiful red golden retriever, but that wasn't always his appearance.
Puppy Mill Birth + Pet Store Adoption + Owner Ignorance As a puppy, Buddy developed GI issues and allergies, mainly due to being fed a diet of 'fillers' found in cheap dog food that resulted in ongoing 'accidents.' Due to owner ignorance, Buddy's domain became the garage, isolated from everyone. There, alone and suffering from lack of critical nutrients necessary for a healthy growing puppy, he lost most of his hair, significant weight, muscular-skeletal underdevelopment, and eye issues thatt later in life 'cost' him his sight. No Longer a Hostage Noticing Buddy's ongoing suffering, compassionate neighbors contacted a local rescue. The convinced the owners to surrender, and immediately Buddy received life-saving vet care. Being treated for his skin condition and upgrading Buddy's food quality, what was once a starved and balding retriever, he began to blossom. Love At First Tail Wag I met Buddy at a meet & greet for potential adopters and pets at the local PetSmart. It was love at first sight for both of us! Our friendship was destiny at its finest. When I approached Buddy to say 'Hi', he smiled and wagged his tail. Then, he came right up and sat on my feet for petting. I had always liked Goldens and had wanted to have one in the family (due to my husband's fondness of Beagles, we had two when Buddy was adopted.) The rescue, knowing about Buddy's health problesm (GI & food allergies), gave him to us for free, so long as we agreed to continue to have him treated. Immediately, I took Buddy to our trusted veterinarian to be tested for food allergies. It took a while to find a food he could tolerate well. Eventually, fish & sweet potato were tolerated best.
My Handsome Man Buddy and I became inseparable. I called him my handsome man because of his beautiful smail and gorgeous red color. He was more than my 'shadow', Buddy was my confident and , at times, a willing audience for my singing, all the while smiling. The B's He became fast friends with our little beagle mix named Buffy. We nicknamed them the B's. Together, they played regularly and would wake me up each morning. Buffy jumped on the bed to lick my face while Buddy would lick my elbows. Puppy Parties Buddy love fruit, all fruit!! He started stealing it off the counters. We would go out and come home to find that an entire cantaloupe or a bunch of bananas would be missing. He would gobble them up, skin and all. Also, our little Robin Hood would steal bread and rolls off the counter and share the wealth with the other dogs. We took to calling his food raids "Puppy Parties". Buddy was the happiest dog I ever met, so it was difficult to stay made at him. We even took to giving him a banana with his breakfast every morning. The only time he would try to jump was to get a banana! If we happened to forget, he would bark as a reminder. Cancer, Chemo & Soft Fuzzy Hair When Buddy was 8 1/2, I found a lump on his leg while petting. After a thorough exam and biopsy, my beautiful Buddy had cancer. Our canine oncologist's treatment plan for Buddy was tumor (including nearby tissue, later resulting in a limp) removal folowed with six months (2x/week) of chemotherapy resulting in complete hair loss. To our surprise, Buddy's hair grew back with a 'puppy-like' fuzzy testure. His fur stayed that way for the rest of his life. Then, he became our beautiful fuzzy boy! Buddy was so brave through it all! We knew his leg was in constant pain, but he didn't complain. We treated him with a painkiller that helped a little. He couldn't go up or down the stairs for quite some time and would cry if left behind, so I started sleeping on the couch to keep him company. Eventually, Buddy recovered well enough to climb the stairs, but it took a few months. All the time, he was sick, he kept smiling if I stayed with him.
Goodbye To My Hero Buddy lived until he was 11 1/2 years. Cancer came back, this time very aggressively in his abdomen. I first noticed it when he wouldn't eat his beloved bananas. We took him to the vet and our worst fears were confirmed. Then we visited a speciality clinic, and they wanted to put him down right away. We needed a week to say goodbye. With more pain meds in hand, Buddy's pain was reduced and at least he could eat again. During that time, we spoiled and loved him to no end, and then we finally had to say "goodbye" to my most beloved friend. Buddy was happy and smiling at us to the very end. He was the best, bravest, most loving boy I have ever known. Buddy was, and is my hero! Anne C. ______________________________________________________________________ LGCR Comments: Apologies in advance for any typos- our editor's tears were streaming as to the deep affection between Anne and Buddy. As a tribute to Buddy, our old dogs' paws salutes the memory of Buddy and all canines that have forever imprinted thier loving paws onto a human's heart.
---
A Tale of Happy Rescued Tails
---
All our babydogs have been rescues, that is, they have rescued us and enriched our lives far beyond anything we could have anticipated or deserved.
My husband and I served more than 20 years in the Army, moving constantly, deploying to faraway places, living life on the move. Throughout that time I made myself an oft-repeated promise: when I retire I'm going to have a dog!

During our last assignment we bought a 40-foot sailboat, a decompression retirement home. While sailing one dark and stormy night (really) off the east coast we ran aground and were forced to live ashore while awaiting repairs. At last, my chance! A visit to a local shelter revealed a shy and shaggy little girl who barked sharply when I walked away. I looked back and was lost in the pleading eyes of a miniature Schnauzer who—after she was groomed—proved to be absolutely beautiful. My granddaughter could not say "bauble" and called her hair berets bobbins. One look at this sweet girl and she was Bobbin the boat dog.
One day while walking Bobbin we passed an alley that she insisted on entering, tugging forcefully on her leash. I followed to discover a tiny "dead" puppy. Bobbin refused to leave the little ball of fluff and I discovered it was a puppy, discarded with someone's trash. And she was alive.
We raced to the animal hospital and learned the puppy was 90 percent dead, suffering from parvovirus and acute malnutrition. She was given little hope of survival, but if she lasted through the night there was hope. She made it and we now had Bobbin and Thimble. They were with us for many years and taught us about unconditional love every day, leaving us with wonderful memories and an emptiness in our hearts.

We moved home to Texas and visited a local shelter where a shaggy little Poodle girl did exactly what Bobbin had done all those years ago: she barked forcefully when I walked away, demanding to come home with us: she did, and we added Josephine to our family.
Time passed, and a family we know could no longer care for a sweet little Cairn Terrier. We agreed to care for him for a while, but after one afternoon we knew we would never let him go, and Buster joined us. Josephine succumbed to age-related illnesses, and we only had Buster. He walked slowly around the house, looking forlorn. We had to find him a playmate. Enter Maddie, a rescue from a local shelter. A live wire, bubbling over with energy and happiness, waking every morning by pulling off my covers, joyously begging for playtime. She and Buster became immediately inseparable, playing, tussling, snuggling non-stop. Then she burrowed out of the fence and in one short, heartbreaking instant she was a tiny black bundle, left on the side of our street as the speeding car that took her from us sped away.
I think this has hit me especially hard because with our other babydogs we watched them growing old, loving them all the more while knowing that we would have to give them up. Goodbyes are always hard, but a long and happy life, filled with precious memories eases the hurt. But Maddie was young, and we had her for such a short time. Her sparkling personality and high spirits were wonderful. It is so hard to say goodbye. Buster is changed, lost and subdued.
And that's the tale of happy tails, full of sound and fury and signifying everything worthwhile in life. We will see what the future holds for us all. ____________________________________________________________________________ LGCR Staff Comments: Thank you for sharing your heartfelt story of rescuing ,saving and most importantly loving your family of canines. For all whom have experienced the absence of a family member, we recognize the familiar ache in your heart. In addition, we respect your privacy wishes of family pet photos. For our readers visualization, we offered examples of breeds described within your story.
---
Catching Bad Guys & Sniffing Bombs…You Are My Hero
---
Where do I begin? My boy. My partner. 15 years old today! Here goes.... March 30, 2013 you were supposed to die as the devil sent his minion to kill you by throwing you out of a second story window head first. You survived. July 3, 2015 you cheated death again after multiple bee stings and 2 weeks in the hospital. I was supposed to lose you. But you stayed with me. December 2, 2015 I said goodbye to you and cried as I was forced to send you into a church to hunt pure evil armed with pipe bombs and AR15s, so that others may live following the San Bernardino terrorist attack. You luckily encountered an empty church. You stayed with me again. I know you cannot stay with me forever but I know you will use every ounce of oxygen and every bit of strength you have to try. That's who you are. You don't quit. You don't know how. You have never lied to me. I know you will tell me when it's time. You always are honest about your needs. When the time comes and you ask to be set free to rest, I promise to be there and hold your paw, my forehead to yours, just like every other day. I will be a wreck for several months maybe even years. You have been my hero Jaris. You have been my strength. You have been my confidence. You have been my heart. My time with you has been the most incredible ride. But it's not over yet. 105 years old in dog years. As long as you want to be here still, I got you pooch. Today we celebrate together, just you and I. I love you Jaris. Happy 15th birthday!
Jaris is a Belgian Malinois imported from Holland. He has been a police dog for 4 years. He is cross trained in Patrol and Explosives Detection
K9 Jaris was recently injured in the line of duty. Due to the overwhelming response and support from people across the USA this page has been made and dedicated to his recovery and eventual return to duty. Please visit fontanak9pals.com for more.
---
Love, Laughter and Tears
---
I once heard a comedian telling a story about taking his children to a shelter to select a family dog. One of the things he said was, "It's such a wonderful experience that you know leads to so much heartbreak later but you do it anyway." He was absolutely correct but the time between adding a dog to your life and when you have to say goodbye is filled with so much joy. I'm going through the heartbreak stage right now after losing my companion of 13 years. She was a West Highland White Terrier I named Ginger. I already had a Westie named Fred when I got her and it was just too tempting to name her Ginger.
Fred was my little "escape artist". If there was a way he could get out of the backyard, he was gone! Ginger never initiated but if she saw him leave, she would follow. It's a great way to meet all of your neighbors, but I wouldn't recommend it. When Fred was 10, he had surgery on both of his back legs to stabilize them. The surgery worked beautifully. A few weeks after the surgery, he started spinning in circles constantly. He would forget why we were outside. The diagnosis was he had a stroke caused by the surgery. The veterinary neurologist told me there was nothing she could do for him. His quality of life was gone.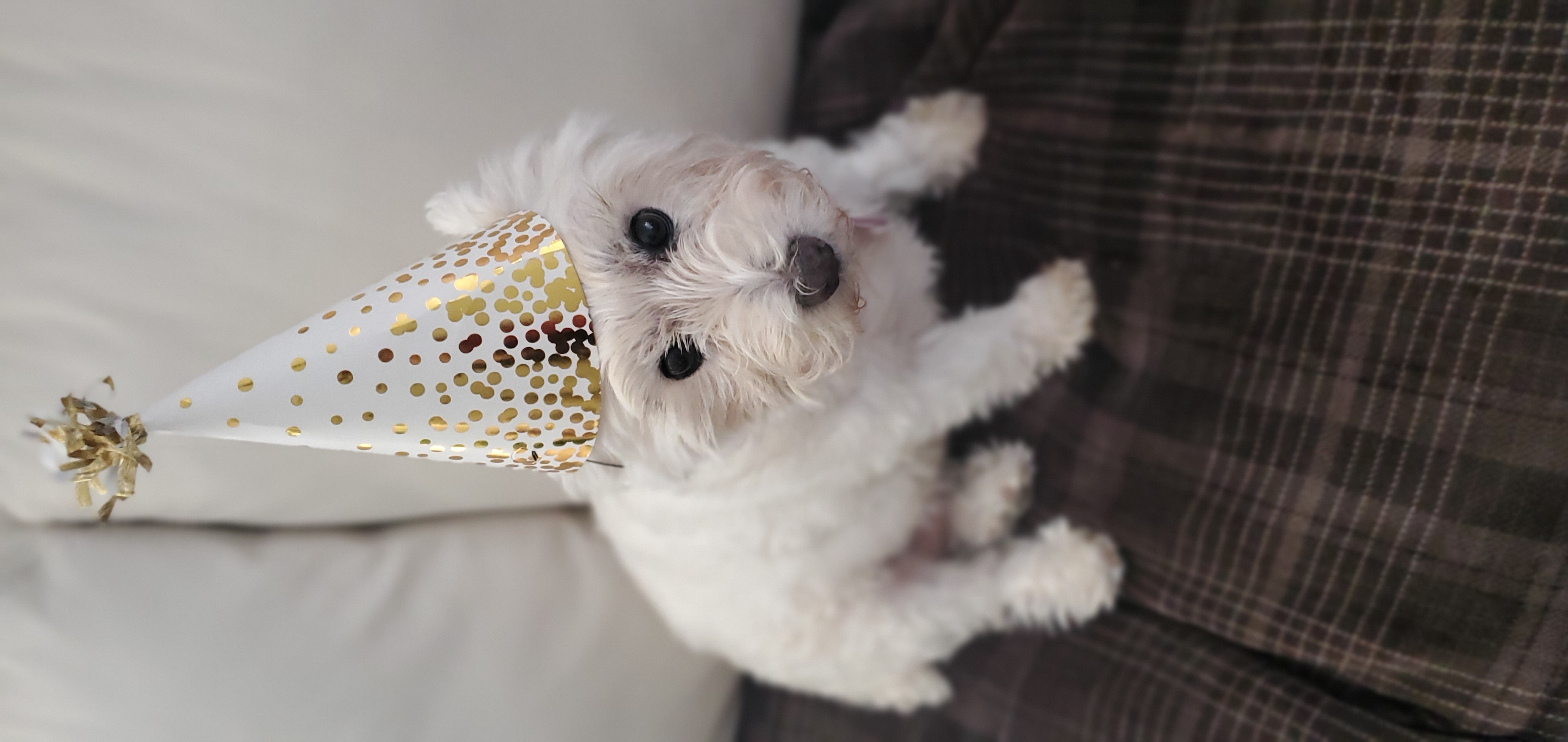 Ginger and I settled into our daily routine after Fred was gone and were together all day, every day. She was a quiet and gentle spirit. I worked from home for years so her sweet nature was an asset. She was never a cuddle-bug but we shared the sofa and it always made me smile to look over and see her napping beside me. We also shared my bed at night. She developed a non-regenerating anemia and I lost her to the disease. I still look for her in the mornings when I wake up and sometimes during the day and I'm reminded she is gone. Yes, it's terribly sad but I get joy from remembering what great companions both Fred and Ginger were and plan to open my heart to a senior rescue some day in the future.
"If there are no dogs in Heaven, then when I die I want to go where they went." – Will Rogers
---
Sugar & Spice, Perfect Family Flavoring
---
Sugar and Spice (11 years old) are two sisters we adopted after the loss of our sweet dog Daisy and my husband went to find her "replacement" at the local shelter. He didn't have any luck there but while walking to his truck two girls came up to him in the parking lot.
"Hey Mister, do you want some puppies?" they asked.
"No," he replied as they insisted he hold one. "
That did it." He came home two little Terrier-mix sisters. One was a light colored "fawn" and the other was darker "like cinnamon" and perfectly named them Sugar and Spice.
We all became attached in no time and they were a such a joy. "We each had our own puppy." Sugar seemed to want to be with me and Spice became my husband's shadow and knew every move he would make or be making.
When my husband became ill with cancer, Spice never left his side. She would run up the stairs before him and wait for him to follow. After he passed away, I know she was looking for him.
The three of us then became constant companions. "They would sit by me, cuddle with me, and even wanted to sleep with me! They helped me through some tough times." But, eventually, I ended up selling our home and moving in with my daughter's family who also had two little dogs.
Sugar and Spice did not adjust well to this new living situation and became aggressive towards their dogs which was heartbreaking. "I tried

four different times

to find them a new home without success."

Living Grace Canine Ranch has provided the "perfect solution" for our two little sisters who have been together since they were born. It will be hard to say goodbye to my best friends but I know in my heart it will be best for us all. "Thank you Rhonda!" I will spread the word about LCGR and help raise money and awareness among my friends for your "wonderful dream adventure for unadoptable dogs".

LGCR Comment: Sugar & Spice are residents of our Forever Home program. Our dedicated team of volunteers and certified canine behavior specialists will assist Sugar & Spice's socialization needs. If the sisters are not candidates for adoption as a pair, they will enjoy ranch life in-sanctuary. Margaret will continue to visit her best friends and go on day-trip outings (these girls love to shop). Lastly, we thank Margaret for entrusting LGCR with their life of happiness and unconditional love.
---
Was It Fate Or Facebook?
---
Is it possible to experience love at first sight from a picture posted on Facebook?
That's what happened to LGCR volunteer Beverly the first time she saw her Bassett Hound Louie's "happy face" in a photo posted by a friend. "I knew the minute I saw his picture I was a goner."
After about two years, the "poorly socialized" Louie had been surrendered back to his breeder, who had posted a request for someone to adopt him. "I must have been crazy because I already had a 13-year-old Basset Hound - Myrtle." It wasn't until about a week later that she and the breeder discovered his many "quirks," but "I knew I just couldn't give up on him." Then, Myrtle passed away suddenly about four months after Louie arrived in their lives. "Louie helped me tremendously in grieving the loss of Myrtle. I didn't have to come home to an empty house."
Initially, Louie was "a big ole' chicken," afraid of men in hats and brooms. "He was just scared and lacked confidence. I took him with me everywhere I could." Now, two years later, he has adjusted very well, she said. "He's very loving, sweet, and devoted. And he loves little dogs like chihuahuas and dachshunds. I think there is a reason I have him." Louie is not the only lucky dog to have Beverly in his life.
At LGCR, Beverly volunteers as a Ranch Buddy by visiting, playing, and loving our residents without fostering who is currently in boarding school.
---
Everyday Is A Holiday
---
I saw him across the room. Brown, shiny hair, big brown liquid eyes, silly smile, and what's that — two girls hanging on to his every word! I didn't have a chance. But my husband encouraged me to go meet him; so bravely I took off. One step and then another, and soon I had traversed the length of the room. He was in front of me. The girls looked at me and then at him and an unspoken word was uttered. All of a sudden I was holding this 23 pound, five month old, chocolate lab mix (emphasis on mix), who in one swift movement looked up at me with those eyes (oh, those eyes!) and gave me a big, sloppy lick — and then another — and then another. I was a goner!
The rescue organization sponsoring this adoption was quick to help us make him our own. And because of a sappy old Hallmark movie, his name became Krismas. By the way, we later adopted Eve!
That 23 pound puppy grew into a solid, silly, lovable giant of 110 pounds. Today he is coming up on his twelfth birthday. His hair is a bit duller now with lots of silver mixed in. His eyes are a bit cloudy. He still has that silly smile but he walks slower these days and has trouble with his hips. But he still melts my heart!!
Even as our old guy continues to age and requires a different kind of attention, he's still a very important part of our family. That's why we believe so strongly in the values of Living Grace Canine Ranch, a haven for senior dogs to belong, be valued and be loved. If only all dogs would have the love Krismas has — or the love Living Grace gives Layla, Hemi or Cora Claus.
---
Cody Is My Name & Love Is My Game
---
Cody was going to be euthanized. He turned 11, had lost a few of his teeth, had the start of cataracts, but otherwise he was a healthy and happy Yorkie. The family just decided they didn't want him anymore. When the Veterinarian heard the story, he said "no." Unequivocally, "no!" He turned Cody over to an animal rescue organization in nearby Dallas, Texas. Soon a picture of Cody was posted and this emaciated and unhappy boy appeared on the site. Cody wouldn't eat and lost his luster and enthusiasm for life. Traci saw that picture and fell in love. Along with her big-hearted husband, David, Traci contacted the organization and said "he's just got to be mine!" A short time later, Cody was in Traci's arms and had a full plate of "mash" also known as ground turkey and sweet potatoes mixed together. This mixture was perfect for a boy who had lost a few teeth and lost a few pounds.
Fast forward to today. Cody has gained some pounds and he gained a forever home. He loves his long walks and gets a little bossy if you don't respond in a timely fashion. He has two buddies, Lilly, a six year old Terrier/Corgi and Emmie, a two year old Chihuahua/Yorkie — both rescues. Even with the age difference, Cody and Emmie have become great friends. When Cody is around Emmie, he actually tap dances. And that's something worth seeing! Traci is committed to the aging. Not only does she work with senior humans, but she has a soft spot for senior canines. And David does his part by working from home and taking care of the pups. So what if a special diet is required? So what if snuggles tend to be longer and more often? So what if a heated blanket is needed to help with old bones? Traci and David hope that those they care for thrive and not just survive. Welcome home, Cody! You did good! ______________________________________
We extend our paws of gratitude to veterinarians and compassionate adoptive senior pet parents. At Living Grace Canine Ranch, our mission is to save, serve & vaule the lives of displaced senior dogs, often deemed by society to be unworthy of human love or life value.
---
If Only Dogs Could Talk
---
Well, I'm a firm believer that they can. My sister and I were on the phone one day, and she told me about a rescue site that had just posted a picture of a Yorkie that was going to be euthanized in two days. These stories always tug at my heart, but looking into the face of that dog made me think he was trying to tell me something. His big eyes were round as saucers, and he seemed to exude hopelessness. I couldn't turn away. The only answer was, "go get him!"
My husband, Jim, drove to the airport, boarded a plane, flew to the shelter, and picked up our new fur baby. When he brought him home, we gave him a new life and a new name — Chew-Chew!
But I was curious. What was Chew-Chew's story? Well, let me introduce you to our little guy and let him tell you about his past.
Hi Human!
My name is Chew-Chew now, and I like my name. I didn't have a name before. I was raised in a tiny kennel at this place called a puppy mill and only got out when I needed to sire a new litter.
The hair on my head never grew right because my kennel was tiny, and my head hit the top of it all the time. I didn't always know if I would have food for the day, so my stomach growled a lot. There was no playtime, only work time. And once I barked when I shouldn't have, and my trachea was crushed—that hurt!
When I got too old to "perform," my humans took me to a place called a kill shelter and surrendered me. They didn't want to waste food and space on me as I grew old.
Then the most amazing thing happened. In walked this big guy named Jim. I call him Dad now. He picked me up and said, "you're coming with me!" Well, that was just fine with me because when he tucked me under his arm, for the very first time in my life, I felt safe and warm.
When I got to my new home, I had a yard to run in, and I figured out I love to run! I have friends to play with, and even though they are Dobermans, I tell them what to do, and they let me. I eat at regular times every single day, and I have more than enough food. (Don't tell my mom, but I'm overweight, and I enjoy every pound!). I feel safe for the first time in my life.
If only humans could speak dog….my mom and dad would hear me say every single day how grateful I am to them for saving my life. I would then ask them to remind other humans that the animal shelters and rescue organizations have all sorts of dogs and cats that need a loving home. Please consider these choices.
I am sending licks and howls of gratitude for Cindy and Jim, my family!
Love, Chew-Chew!
LGCR Bunkhouse Editorial
Rural Texas shelters and rescues are often the 'dumping' ground for "all-for-profit, morally bankrupt businesses." While Texas isn't one of the worst states in the nation when it comes to puppy mills, it is no stranger to the commercial dog breeding industry. The Lone Star State is home to over

118 puppy mills

, and several of them are consistently some of the worst in the entire country. In the event your family is blessed to adopt a puppy mill survivor (though often you will not know it at time of adoption), equip yourself with behavioral knowledge or seek the assistance of a professional trainer. They enter your home with a lifetime of invisible scars that will test your boundaries of compassion.

At Living Grace Canine Ranch, our mission is to save, serve & vaule the lives of displaced senior dogs, often deemed by society to be unworthy of human love or life value.
---
Ear Ye! Ear Ye!
---
I'll bet you thought ears were for hearing, right? Well, that's not always true. My new mom took one look at my ears and fell in love with me. Yep! From the tip of my ears down to the end of my tail, she made me hers.
I was growing old with my folks, living life in love and contentment. Then things started to change. My dad passed away, then it was just my mom and me. Mom loved me very much, and we had long talks each day. She missed my dad, and so did I.
Then I started seeing some changes in my mom. She would sometimes forget to let me outside, and every once in a while, both of us would forget to eat. People would come to visit her, and one day they told us both that she would have to go to a place where they could take care of people who were losing their memory. I would have to go to a new home. We both cried a lot before we had to say goodbye to each other.
A new home for me meant I had to fit in with new people and new dogs. I wasn't particularly welcome there and often felt like a burden. It's an awful way to feel. These new people told me that they didn't have room for me and that I had to go elsewhere. What was an old dog like me supposed to do?
Well, what happened next is pretty much a miracle! Living Grace Canine Ranch was building a 'bunkhouse' for senior canines to live out their lives in love and compassion. But it was a few months away from being ready, and I was out of time! But the Ranch put my picture on their website, and WOWZER! My new mom and dad saw my ears. My ears! Can you believe it?
They fell in love with my ears. The next thing I knew, I was in a new home with really active people and another dog like me named Olive. I have a big yard to play in, and I can go down to the creek and jump in if I want to, and no one gets mad! I feel young again — and loved!
Bottom line — I'm glad I have my ears. And I'm happy that my 'furever' family found me. You see, Living Grace Canine Ranch is a 501(c)(3) charity dedicated to saving, serving, and valuing the lives of Texas senior canines. And my new mom and dad are passionate about the same things!! Living Grace accomplishes their mission by offering dogs of all breeds physical, emotional, and medical challenges the opportunity to live in-sanctuary or be united with a forever family. Thank goodness my family helped an old dog out!
At Living Grace Canine Ranch, our mission is to save, serve & vaule the lives of displaced senior dogs, often deemed by society to be unworthy of human love or life value. Foster families of 'special needs' canines such as our residents represent the best of humanity.
Rosie's
daily
medical care for glaucoma requires parenting diligence of eye drops to thwart 'migraine-type' headaches. Blind by
retinal disease
her quality of life hangs on the balance of human compassion and caregiving. On behalf of LGCR and volunteers, thank you to Rosie's financial supporters. No longer a candidate for cataract surgery, Rosie's ability to receive medical specialist supervision and medication allows her to live a full life, experiencing only joy, belonging and love.
---
---